If you love to make your own home-made natural skin care products, then you certainly will enjoy this article on Non-greasy Shea butter lotion recipe. You can easily make your own body care lotion with just a few ingredients you can purchase from your local grocery store. 
This recipe is easy to make and you don't need to have any specific skills to be able to make your own Shea butter body lotion. Many of the popular skincare products contain a compound that can be injurious to your health and the environment. This is why we always advocate that you opt for organic skincare products or better yet learn how to do-it-yourself. 
Before I share with you my secret non-greasy Shea butter lotion recipe, I will first of all like to share with you a little insight about Shea butter and its many benefits. 
What is Shea Butter?
Shea butter is a fatty substance that is gotten from the nuts of the Shea tree. The Shea tree is mainly found in the western regions of Africa, and the majority of the Shea butter comes from that part of the world. The butter can be heated to liquid form but is usually solid when kept in a cool dry place. 
It is used mainly in cosmetology and its discovery dates back to the ancient Egyptian empire. There are many things you can do with Shea butter apart from using it as a body lotion to condition and smoothen your skin. 
Some of the benefits of Shea Butter include:
Suitable for all Skin Types
One of the reasons why Shea butter is a popular ingredient in body lotion is because it can be used on all skin types. It contains a low amount of natural proteins that make it free from allergies. It also does not contain chemical compounds that can dry your skin or leave you with irritations from regular use. 
If you are in need of more moisture in your body lotion, then you should consider switching to a Shea butter lotion. Or better yet make your own home-made Shea butter lotion using the recipe below. 
The fatty acid content of Shea butter makes it easy for the oil to be absorbed into the skin. These acids include oleic, palmitic, linoleic, and stearic acids which help to restore lipids and add moisture to dry skin.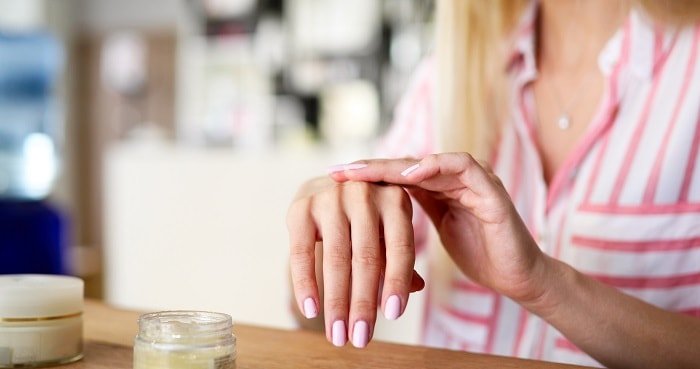 Anti-inflammatory Properties
Shea butter is also known to possess anti-inflammatory properties. When you apply the butter to your skin, it reduces the production of inflammatory cells such as cytokines. This helps your skin to resolve dermal irritations such as eczema and psoriases. 
There are claims that taking Shea extracts orally may be able to act as an antibacterial in animals. This has made a lot of people to believe that Shea butter may be used in treating skin conditions such as acne, pimples, and blackhead. 
Promotes Cell Regeneration 
The antioxidant and moisturizing properties of Shea butter makes it possible for the skin to produce new and healthy cells. The cells of the skin are constantly been eliminated and regenerated. Dead skin cells are gotten rid of making room for new skin cells to form. Using Shea butter lotion on your skin regularly will reduce the amount of dead skin cells that are in your epidermis. 
Non-Greasy Shea Butter Lotion Recipe
Ingredients 
Shea butter 

Coconut oil

Sweet almond oil

Jojoba oil 

Sunflower oil 

Vitamin E oil 

Beeswax pastilles 

Arrowroot powder or tapioca starch 

Essential oils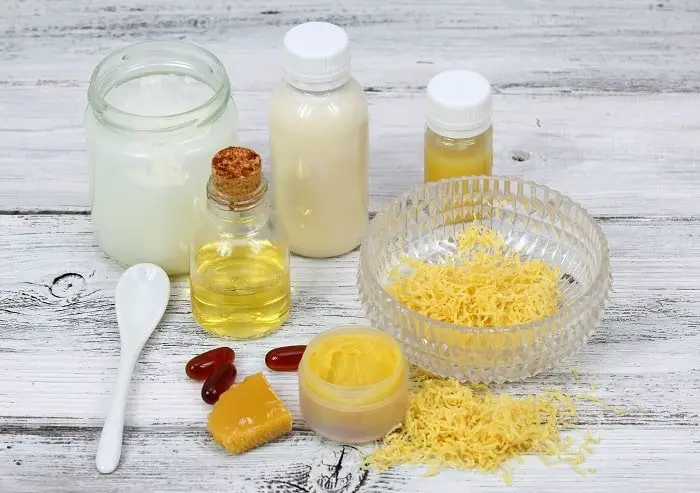 Equipment
To be able to make your own home-made Shea butter body lotion, you will need a few kitchen equipment to make the job easier. They include 
Hand or stand mixer 

A large bowl (preferably glass)

Pan 

Spatula 

A dry container to store your lotion 

Kitchen scale 
Instructions 
Once you have made provisions for the ingredients and equipment required to make your non-greasy Shea butter body lotion you can now start by:
Using the kitchen scale, measure out 53g of Shea butter, 26g of coconut oil, 13g of sweet almond oil, 13g of sunflower oil, 7g of jojoba oil, 3.5g of beeswax pastilles, half tablespoon of arrowroot powder or tapioca starch, a quarter teaspoon of vitamin E oil, and 4-5 drops of any essential oil of your choice. (We suggest you use any or a mix of lavender, sweet orange, tea tree, patchouli, frankincense, and vanilla essential oils). 

After measuring all the ingredients, add them into the glass bowl and heat them inside boiling water for a few minutes. This is so the oils can melt completely to make it easier for them to mix properly. 

Once the mixture has been melted properly, allow it to cool until it is transparent. You can keep the bowl in the fridge for 15 minutes to speed things up. 

Once the mixture has cooled down, the next step is to use your hand or stand mixer to stir the melted oils until they harden to form butter. You will need to continue stirring for 5-8 minutes until the mixture is fluffy. 

You should stop mixing when the mixture can be held in a spoon without spilling. 

Once you've achieved the right texture above, you can now transfer your body lotion to a container or jar and keep it in a cool dry place; until it is ready for use.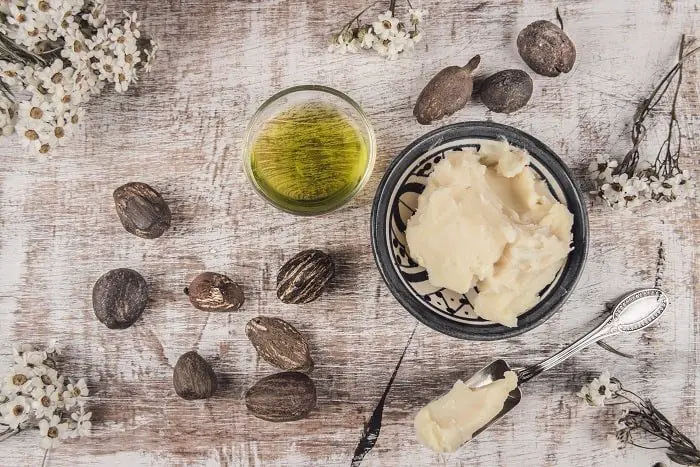 You can always add your favorite scent to your Shea butter lotion by using your favorite essential oil. You should also know that when shopping for any of the ingredients, you should ensure you choose from purely organic sources. This way, you get to be certain that you would not suffer from any skin irritations or allergies due to the presence of toxins. 
With the simple guide above, you can easily make your own non-greasy Shea butter body lotion in the comfort of your home, with ingredients you are already familiar with. 
Have you tried Shea butter body lotion before? How do you use it to care for your skin? We will like you to share your experience with us.