Being cold is one of the worst feelings in the world – it is right up there with being hungry if you ask me. I was used to warm weather all year round. No coats, no nothing, just sunshine all day long. One day, a few years ago, I had to move to another state for a job and oh, boy, what a journey it was. I moved in the middle of a harsh winter and I had to get used to not only layers and layers of clothing but also to not leave any patch of skin exposed. It was really hard to use gloves all the time outside, too. I could not check my phone! I tried some special gloves but that did not work, and even if I was using gloves, I still had horribly cold hands. I started experimenting and ended up with a few homemade hand warmers that you can also make at home and will be an absolute lifesaver. You can even use them as a stocking stuffer or a small gift!
How to Make DIY Hand Warmers
For this project, you will need basic sewing supplies and it will take maybe 15 minutes if you know how to sew. If you do not, however, it is a very simple project which can help you start learning and eventually grow it into a bigger hobby.
Materials
A piece, or various pieces, of 100% cotton flannel. You can use whatever color or pattern you like best, so this is the time to get creative and showcase your personal style. You can even buy small fabric scraps because you are going to need a very little amount of fabric.

Matching color thread

Needle

Scissors

Measuring tape

Uncooked rice. The amount depends on how big you would like the warmers to be.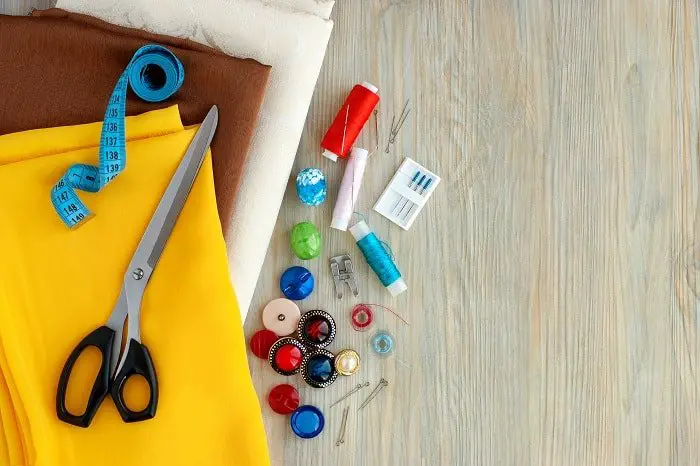 Instructions
Step 1
The first thing we need to do is measure and cut the flannel we have chosen to use. For hand warmers, I recommend 4 by 4-inch squares. You will need 2 per hand warmer.
We need 100% cotton flannel because we need to make sure that no artificial, plastic or metal is woven in the fabric. If not, you are not going to be able to heat it up in the microwave.
Step 2
Grab two squares and put them right sides together. That is to say, make the two right sides meet so that the wrong sides are facing outward.
Step 3
With a sewing machine or by hand sew the two squares together leaving ¼ of an inch between the end of the fabric and the thread. Make sure you do not sew all the way shut, though! We need a 1-inch opening to fill it out and turn it around.
Step 4
Turn the pouch inside out through the opening you left. If it was smaller than 1 inch it would be very difficult to do this, so make sure it is not smaller. It is best to leave this opening right next to a corner. Once it is on its right side, pop the fabric up so that it looks like a little bean bag.
Step 5
It is time to fill the bag up with rice! Be careful not to overfill it. Make sure you leave ¼ of the baggie free so that it is nice to hold and not too stiff. If you put too much rice into it you will not be able to sew it shut either.
If you are making 4 by 4-inch bags, then you will need approximately ⅛ of a cup of rice. You can use whatever rice you have and is the cheapest.
Step 6
Making sure not to drop any rice, fold the edges over and sew the opening shut. Reinforce the edges all the way around and make sure not to leave any gaps, especially if you are sewing by hand. You do not want any rice spillage in your pockets.
You are done! Wasn't that easy? 
How to use your DIY hand warmers
We use rice inside these little pockets because it can hold up the heat a little bit and it is pleasant to touch. These are very simple to use, you just need to warm them up before you head outside.
The way to do this is by placing them for half a minute in the microwave or warming them up over the stove. Once they are warm, place them in your pocket and you are good to go!
It is very important to not wet these bags ever! If they get wet, the rice will puff up and they can develop mold inside. Ew, gross! To protect them, always warm them up on a plate in the microwave.
Extra tips
I also like to make these little baggies scented. You can place some seeds, like, for example, lavender seeds inside. Once they are warmed, they will give out a pleasant and relaxing smell. They are also indistinguishable to the touch from the uncooked rice.
Using this method you can also make other types of bags for different purposes. I have made larger baggies to put on the back of my neck if it is sore. I warm them up just like I do the hand warmers and they are a great treatment for stiff muscles anywhere in the body.
I also make long strips that I put over my eyes when I have a migraine. I always keep one of these in the fridge so that it is cold and helps relieve my symptoms. It helps maintain my head cool -also works for a fever- and applies pressure over my eye area, keeping light out.
This is one of the simplest, most useful DIYs you can find. Have you tried it before? Will you try it now? It is simple enough that even someone with no sewing experience can complete it in a very short amount of time. Don't be shy, leave a picture below!