As far as the environment is concerned, plastic sucks. And plastic grocery bags suck even worse. They are absolutely terrible for the environment. Less than 1% are recycled, and they can stay in landfills without breaking down for over 1000 years. Only two states, New York and California, have placed bans on the use of plastic bags in grocery stores.
Not to mention, they are miserable on your mental health. I mean, who hasn't had a mental breakdown over the mountain of plastic bags taking over your kitchen sink? Even if you've somehow avoided the ever-growing wad of plastic bags, you wouldn't be here if you weren't considering making the switch to reusable grocery bags. There are so many useful and sustainable options, there's really no reason not to use one. 
With the overwhelming amount of choices out there, it can be hard to know if what you're buying is going to last. Is one material better than another? Is the style all preference, or is there a style that holds more and lasts longer? Do all the good ones have to be soooo plain? I've put together a list of things to consider before making your purchase, along with the top 5 reusable grocery bags that live up to the hype.
How to Choose the Best Reusable Grocery Bag
Size
Check dimensions of any reusable bags you're looking to buy. If you're unsure what size you need, go for a standard brown paper bag size to start. As you get used to using reusable bags, you may find you prefer larger or smaller bags and you can buy accordingly. It's also important to check the carrying capacity. Is there anything worse than losing your groceries in the parking lot thanks to a torn bag? No thanks. If you tend to overload your bags, make sure you go for a heavy-duty reusable option. Don't forget to look at the handle length as well. Keep in mind when you're buying whether you prefer to carry your bags over your shoulder, or in your hands.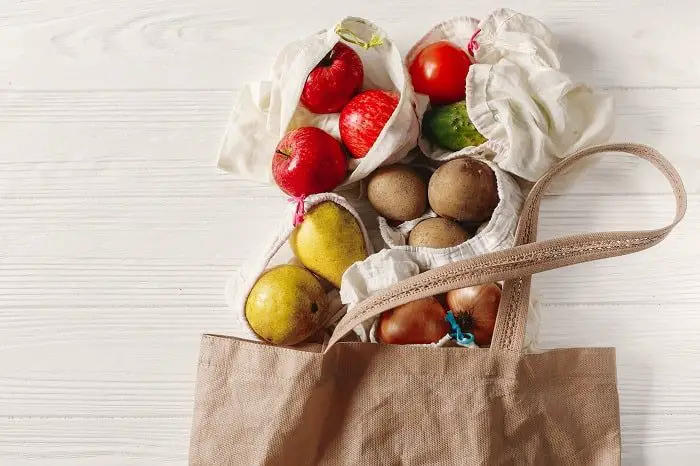 Storage 
A huge perk to reusable bags is the elimination of the wadded up plastic bags we all keep under the sink. You know what I'm talking about. Some options fold up nicely and can be stored in a drawer or pantry box. But other styles come with their own storage options – whether they zip up into small tidy sizes, or they come with a carrying case to hold all your bags together. Pick your preference and go with it.
Style
You can find reusable shopping bags in all sorts of shapes, sizes, and patterns. Flat bottom styles are very popular, they hold themselves up like a regular brown paper bag. Look into features like insulation and internal pockets for your wallet, keys, or cell phone. My favorite part of reusable grocery bags? I can pick and choose from so many different cute patterns and designs. I've even monogrammed a few and given them as gifts!
Material

Always check the material of your reusable grocery bag to ensure it is eco-friendly and will sustain for a long time. You want something durable that can withstand years of heavy use, as well as something that is easily washable. Cotton and canvas sacks have a smaller eco-footprint and are washable and biodegradable. Polyester and synthetic, the most common materials found in reusable bags, are not biodegradable. But as they are reusable, and they are a way better option than plastic bags. Hand-knit bags are also a good option if you can find them, making these has the least impact on the environment, and they are super cute too!
Top 5 Reusable Grocery Bags
An awesome price tag comes with this set of 5 bags. Each bag comes with its own attached mini pouch for easy fold up and storage. Holds up to 50 lbs, and comes in multiple color options. Machine washable and a 1 year no rip guarantee makes these a top pick. They are made from heavy-duty ripstop polyester, and it's very easy to clean.
What I love
The attached storage pouch means I never lose it, and it folds up small enough to fit in my purse. They also don't shrink or unravel in the washer machine – which is a huge bonus in my book.
Cons
It doesn't come with one central bag to store all 5 in, but I usually leave one bag open and put the other 4 inside. Overall, it makes for pretty easy storage.
Coming in sets of 8, these reusable bags give you a lot of bang for your buck. These manage to be plain but cute, and they come in two styles. A mesh option to allow for breathability, and a see-through panel to allow you to see exactly what you've put in your bags. They are light and thin, but incredibly durable. You can toss them in your washer machine and reuse for years to come.
What I love
I can take these to go get my groceries, and then keep my produce in these bags for the entire week – exactly as if I had bought them already wrapped. It takes the work out of unpacking groceries and that's points for me.
Cons
The drawstring closure is handy to keep your goods from falling out if they tip over, but it's also your only option for a handle. They are best carried from the bottom.
The storage option that comes with these bags is one of the best. One storage pouch holds the entire set of either 5 or 10 bags. They are made of ripstop nylon and rated to hold up to 50 lbs. They have a great box type bottom that allows them to stand up while you fill them. They are an excellent combo of value and usefulness.
What I love
The storage pouch comes with a carabiner clip to attach to your shopping cart – you can pull them out as needed and leave the rest in their storage bag. Yes, please!
Cons
The bags are a bit on the smaller side, but a set of 10 is usually more than enough to hold your weeks worth of groceries. I'm also a bit of a pattern snob, and these don't have any extra color or pattern options. Pick your battles guys, pick your battles.
An inexpensive 3 pack made of durable ripstop nylon and machine washable make these handy reusable grocery bags a good buy. Each bag folds into its own storage pouch. They come in three colors and fold up easily into their individual storage packs.
What I love
The price is what makes these bags a win. They are great if you're looking for a good quality purchase without the price tag.
Cons
Only a 20lbs capacity, significantly less than the other bags on my list and on the market in general. Still, if you don't plan on overloading your bags, these can be a great choice for you.
These stylish and durable bags made of heavy-duty waxed canvas, known as "duck canvas," is specially treated to be water and stain-resistant. They stand on their own and make loading a breeze. The quality matches the price with these reusable bags.
What I love
Reinforced stitching and seams, these bags are seriously made to last. They are durable and can take a beating.
Cons
They are not machine washable, but the treated material is extremely easy to wipe clean.
Making the switch to these reusable grocery bags is one of the simplest things you can do to help heal the planet. If you're really serious about eliminating your plastic usage or simply taking a step back from single-use items, reusable bags are wonderfully versatile. In my home, we use them for gardening, camping, and for toting around our pet supplies. With so many wonderful options that make it easy, there's no reason not to make the switch to reusable.