There are many benefits that can be obtained from making solid shampoo bars at home such as convenience compared to liquid shampoo. There are no fears of spilling the shampoo in the bag. Solid do it yourself (DIY) shampoo bars are easy to use and they are customizable to suit your needs. This type of shampoo is also cheap which makes it a great choice over liquid products. 
If you are concerned about maintaining your hair and skin in good health, the DIY shampoo bar is your ultimate companion. It is easy to make and there are no special skills required as long as you have the appropriate recipe. As such, this guide gives you a step-by-step approach about how to make a shampoo bar recipe without lye. 
How to Make Shampoo Bar without Lye
When you are not using lye in making your DIY shampoo, you can instead use a soap base and the recipe is very easy to follow. If you have coarse, thick, brown and dry hair, then this recipe is for you. To make this DIY shampoo bar, there are four major ingredients required and you can customize them with your favorite fragrance together with favorite oils to make a great product.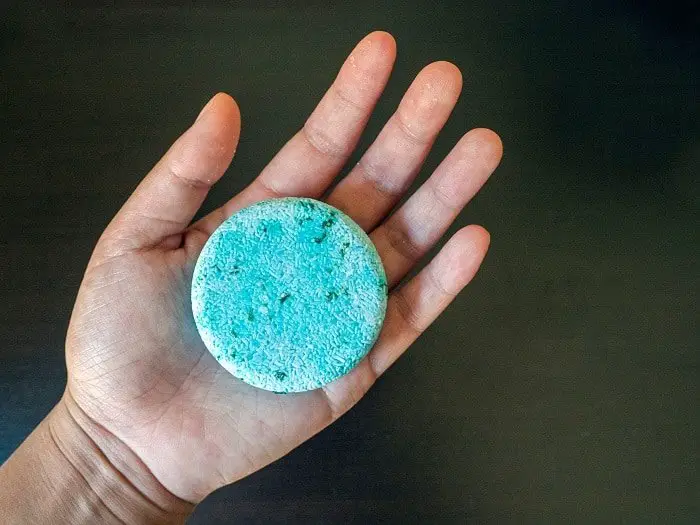 Ingredients
Benefits of the Above Ingredients
Glycerin extracted from goat's milk and coconut oil constitute organic soap base for this particular recipe. The main advantage of coconut oil is that it stimulates the growth of hair, adds shine and softens hair, prevent split ends while at the same time-fighting dandruff. 
Goat's milk, on the other hand, is rich in protein, phosphorus, calcium as well as Vitamin B2 as well as potassium. These are good for the healthy growth of your hair. Castor oil helps in thickening and regrowth of hair and it is a natural treatment that is good for your health. 
Shea butter promotes the growth of hair, conditions and moisturizes hair, treats inflammation and itchy scalp. On top of these ingredients, you should note that you can also use a vegan soap base like Cocoa Butter soap base and Shea Butter soap base. 
There are also different types of essential oils so you can choose the ones with the properties that you desire. Some of these essential oils are good for dry hair while others are not appropriate for oily hair. You can customize the recipe to suit your desires. 
Choosing the Right Essential Oil for your Recipe
To choose the best essential oils for your shampoo, you can consider the following factors. Different oils are ideal for different 
Hair loss: Cedarwood, Cineole, Lemon, Spikenard, Bay St Thomas, Grapefruit, Rosemary, Clary Sage, 

Oily hair: Bergamot, Cedarwood, Lemon, Grapefruit, Bay Leaf, Clary Sage

Thin hair: Rosewood and Lemongrass

Dandruff and itchy scalp: Geranium, Palmarosa, Bay Leaf (Laurel), Cade, Tea Tree, Patchouli Dull hair: Ylang-Ylang and Geranium, Bay St Thomas.

Natural or Colored Blonde hair: Chamomile German
Utensils Required    
1 Soap Mold 

1 Double boiler

1 Spray bottle with rubbing alcohol
Instructions 
You should carefully follow the simple steps below to make your shampoo bar recipe without lye
Begin by cutting your melt and pour soap base then gently melt using a double boiler. It is essential to use gentle to medium heat to achieve the best results. You should continue simmering until the base soap is completely melted.

When everything has completely melted, remove the bowl from the heat and wait until the contents are slightly cool. Add castor oil, shea butter and you can also add some essential oils if you wish and mix well. Adding essential oils when the base soap is too warm results in the disappearance of the sweet scents.

After mixing the ingredients, you should pour the mixture into the soap mode. To prevent bubbling, you should spray the mixture with rubbing alcohol. 

Allow the mixture to cool for about 24 hours to allow the bars to solidify. You should then gently remove the shampoo bars from the mold and they are ready for use. 
Using Shampoo Bar without Lye
Without lye (Sodium Hydroxide-Caustic Alkali), it may be difficult to make soap. As you have observed, the above recipe does not include lye but you can still achieve the same benefits from using the shampoo. It is also easy to use the shampoo bar without lye and you can simply do the following things.
Wet your hair first

Create lather from the shampoo bar by rubbing it on your wet hands and massage it onto your scalp. Alternatively, you can rub the shampoo bar directly on your wet hair or scalp just like you do when using ordinary bath soap. 

Use a product with apple cider vinegar or any preferred organic conditioner for rinsing. 
Tips and Tricks
When choosing essential oils for your recipe, make sure you get soothing with a scent that you are proud of otherwise you might not enjoy your shampoo bar. 

Always make sure that you keep your shampoo bar in a cool dry place to avoid spoiling other items when you are traveling. You can enjoy multiple uses of the shampoo bar depending on your usage. 

The tip of using

Apple Cider Vinegar

in your rinse is to ensure that you keep it pH balanced for excellent results.
Conclusion
There are many benefits that you can obtain from making your DIY shampoo bar without lye. In this tutorial, you learned a few steps involved in making the shampoo as well as the ingredients required. As a thumb rule, you should always use the right ingredients to be in a better position to achieve the desired results. 
I hope you have enjoyed reading this simple step by step tutorial about how to make your shampoo bars at home without lye. You can leave your comments or questions below.