Summertime brings joy especially to people who enjoy outdoor activities like beach-going or general hiking. However, the downside of sunny weather is that you can experience sunburn which causes a lot of discomfort and pain to different people. 
Sunburn is caused by UV rays from the sun and it causes a burning sensation or inflammation of the skin which makes it painful to even touch it. However, there are certain topical creams and natural oils that significantly help to reduce sunburns such as Shea Butter. This article highlights the properties and benefits of Shea Butter for sunburn, how to use it as well. 
Significance of Shear Butter in Treating Sunburn
After exposure to excessive heat from the sun, many people will experience inflammation and pain and these can be treated by topical creams as well as natural oils. For instance, Shea Butter can significantly help to treat the problem of sunburn. This remedy consists of different properties.
First and foremost, you should know that Shea Butter consists of natural ingredients and this makes it suitable for different types of skin. Whether your skin is sensitive or not, Shea butter can give you great relief from the pain that is caused by sunburn. Unlike other products that contain artificial chemicals that can affect your skin, Shea butter does not pose any threat to the user.   
Healing Properties of Shea Butter
Shea butter consists of different healing properties together antioxidants and vitamins that help to ease the burning sensation. The other significant aspect about Shea Butter is that it helps to nourish the skin so as to prevent it from peeling. Apart from healing, Shea Butter can also prevent the condition of sunburn by nourishing and moisturizing your skin.
In the same vein, Shea Butter plays a crucial role in moisturizing your sunburn such that it helps to prevent the skin from becoming too dry. Shea butter also has ingredients such as Vitamin E which plays a significant role in healing your skin. Moisturized skin is not susceptible to sunburn compared to a dry one.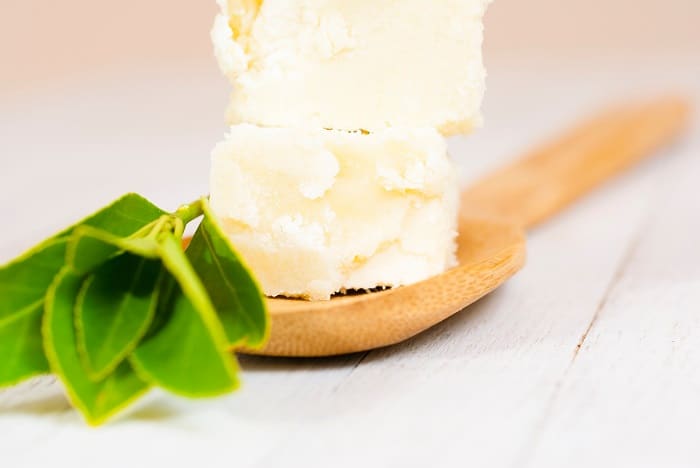 It is believed that African unrefined Shea Butter can reverse dry skin in a period of about three days. It also consists of natural-inflammatory properties that relieve sunburn and other conditions like scrapes, cuts, and burns. Shea Butter also has crucial fatty acids together vitamins A and E which help to maintain the suppleness of your skin. 
Shea butter is probably the most effective and fastest natural sunburn remedy for different types of skin. It is capable of soothing, hydrating and balancing your skin. It also moisturizes dry skin to prevent different conditions that can cause pain and discomfort. For quick results when you have a sunburn, unrefined Shea butter can offer you great relief. 
The main advantage of unrefined Shea Butter is that it can maintain its therapeutic qualities while at the same time keeping your skin supple and moist. On the other hand, refined or processed Shea Butter loses most of its healing properties which can make it ineffective. 
The other important element about Shea Butter is that it is believed to have anti-aging properties and it can also help to rebuild collagen. These properties are crucial since they help to fight different skin problems including sunburn. Therefore, Shea Butter can work wonders on your skin since it helps to fight different conditions. 
How to Use Shea Butter for Sunburn
Shea Butter is easy to use and you can do it yourself at home. The following are the steps that you can use to apply Shea Butter on the areas affected by sunburn.
Do it yourself Home Remedy
Applying raw Shea Butter on the affected area is a very simple thing to do. When the butter is in its solid-state, you can melt it using a saucepan then smear the oil on the affected area. Leave the oil to sit where you have applied it overnight and you will experience great relief. 
The other DIY home-remedy for sunburn includes Shea Butter that you can obtain from different retail stores. To apply this remedy, you will need the following things:
Directions for Use
The first step is to wet the washcloth then add a bit of apple cider vinegar on it. After that, massage the sunburn using the wet washcloth which helps to relieve the stinging sensation. Allow your skin to dry after that. 
When the skin is dry, you should then rub Shea Butter on the area that is affected on your skin. Though optional, you can also add a few drops of essential oils. For instance, peppermint helps to cool the skin while at the same time releasing heat to promote quick relief. Lavender is effective in supporting overall skin health.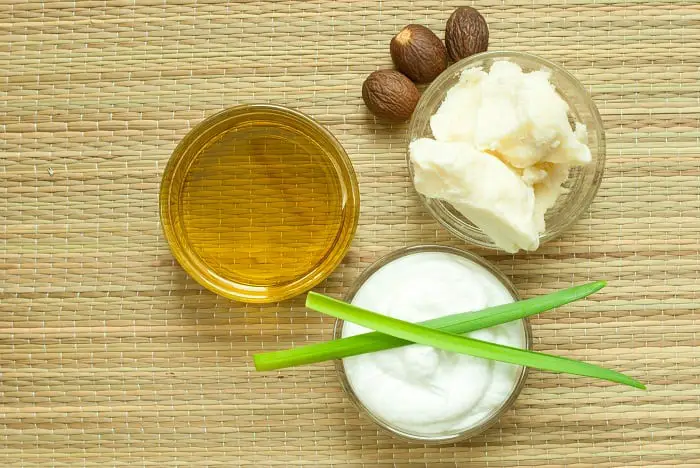 This simple and easy DIY recipe can give you instant relief and you can repeat the process within the next few days until the sunburn is completely healed. You can also continue using the butter to avoid flaky skin while at the same time promoting further healing.
The natural home remedy using Shea Butter for sunburns is very effective since it helps to soothe your skin while at the same time nourishing it. The remedy also relieves pain and leaves your skin feeling supple and hydrated. The natural remedy has quality healing properties compared to other solutions that may contain artificial chemicals that can affect your skin. 
Conclusion
While summertime is good for a variety of outdoor activities, the risk that you are likely to experience is that overexposure to the sun can lead to sunburns.  UV rays from the sun can cause inflammation of the skin which also leads to severe pain and discomfort. 
However, you can solve this particular problem through the use of Shea Butter. The main advantage of this remedy is that it consists of natural ingredients and this makes it suitable for different types of skin. It is also easy to use and it gives you instant relief against the stinging pain.