If you enjoy grilling then you should also have BBQ sauce at hand to serve your dish well.  BBQ sauce can perfectly go well with many things such as burgers, French fries, sandwiches as well as baked veggies among other things. The sauce is smoky, tangy and it is also naturally sweet.
The good news is that you can easily make your bbq sauce at home within a few minutes. As such, this guide gives you steps that you can take to prepare your homemade bbq sauce without ketchup. It is essential to make sure that you have the right ingredients and you will realize that the sauce is very easy to make. 
Why BBQ Sauce without Ketchup?
There are many advantages of using homemade bbq sauce without ketchup. For instance, it's less expensive than buying bottled sauce. It does not contain sweeteners, mystery thickeners as well as emulsifiers. In other words, the source is good for your health since it does not contain additives that can affect other people. 
The other wonderful thing about bbq sauce is that it is versatile. It is not only meant for grilled meat since you can also use it on the following:
Chicken quesadillas

Meatloaf dinner

Mashed potato dinner

Pizza sauce

Beans 
You can also use it on any type of food as long as it satisfies your taste.
How to Make BBQ without Ketchup
You only need about 15 minutes to make this tangy, sweet and delicious sauce. Preparation needs about 5 minutes while the cook time requires 10 minutes. One cup of your homemade bbq sauce can serve four people with each individual getting ¼ cup. You should have the following things to make your bbq sauce at home.
Ingredients 
You should make sure you have the following ingredients
8 oz of

tomato sauce

 

2 tablespoons brown sugar

2 tablespoons apple cider vinegar

2 tablespoons tomato paste

½ tablespoon Dijon

2 tablespoons molasses

¼ teaspoon garlic powder

1 teaspoon smoked paprika

¼ teaspoon onion powder

1 teaspoon Worcestershire sauce

Freshly cracked pepper

1/8 teaspoon cayenne

Add salt to taste
If you fail to get molasses, you can add more brown sugar but do it carefully to make your sauce palatable. If you do not like your sauce to be too sweet, then you can also reduce the amount of sugar that you add to the above ingredients.  Above all, you should note that there are also other recipes for homemade bbq sauce.
Instruments Required
You need a saucepan and a stirring stick or spoon.
Instructions
The first step is to mix all the ingredients in the saucepan except salt. You then heat the contents over medium heat while stirring at the same time to prevent unwanted thickening of the sauce on the base of the pan. Stirring also helps to prevent burning of the contents at the bottom which can lead to bad taste. 
Allow the contents to come to a

slight simmer

while you continue stirring for about five minutes. You can then taste the sauce and add some sauce should you need it. When you are satisfied with the taste of the sauce, take it off the heat and it is ready. You can use it together with some onion pieces. 
Using Homemade BBQ Sauce
As you have noticed from the above recipe, it does not include ketchup which is a major ingredient in bbq sauce that you can obtain from your local grocery store. When your sauce is ready, it is essential to cool it before using it on different dishes.
You can use a brush to spread evenly the sauce over your grilled meat. You can also use a spoon to mix bbq sauce with other dishes like beans. You can also dip items like fresh chips into the sauce. One thing for real is that there is no single formula for using your delicious sauce on different types of dishes. It's a matter of personal preference. 
Tips and Tricks
There are also other things that you should know about this delicious BBQ without ketchup. The following tips and tricks can help you to manage the entire process of making your favorite sauce at home. 
It is recommended that you should make your bbq sauce in small batches of about a cup to avoid much leftover. However, in the event that you have some leftovers, the

sauce freezes

very well and you can safely use it after a few months. You only need to get an ideal freezer container and safely freeze your sauce for future use. You should make sure that the container is sealed and airtight to prevent bacteria. You must not forget to label the container with your sauce.

The other helpful trick is that you can reduce the sugar content in your homemade BBQ sauce. Naturally, the sauce is sweet since it consists of molasses and brown sugar. You can try a recipe with low sugar content and see if you can love the sauce. As long as you have other ingredients, there is nothing wrong with experimenting with new things. 

Your source can thicken after adding pieces of onion but you can add one tablespoon of water to make it thin.  

You should always make sure that you use your ingredients in the right quantities to produce a delicious sauce.

Do not allow your sauce to overheat or boil since this can negatively affect its taste.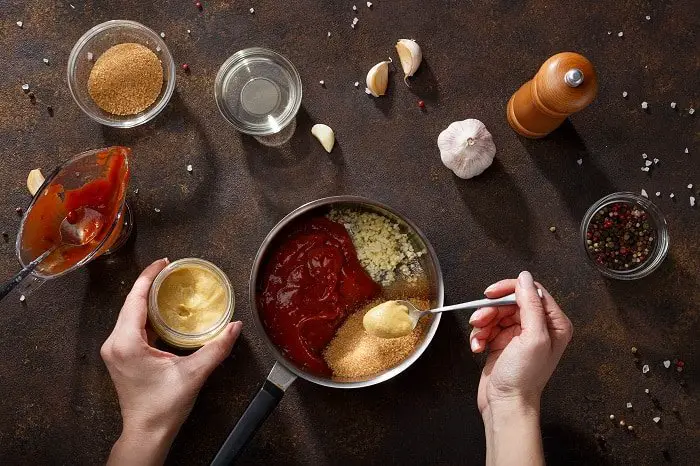 Conclusion
It is my hope that you have enjoyed reading this simple step by step process in making your homemade bbq sauce without ketchup. The sauce is absolutely good in that it is versatile and you can use it on almost everything. It is delicious and the other advantage of using this sauce is that it's less expensive compared to a bottled sauce that you can get from grocery shops. 
Comments and questions are welcome.