The homemade Baileys Irish cream recipe no eggs is simpler than other methods that you can get online and no special skills are required to make it. The Irish cream is delicious and it can be mixed with drinks or desserts. The whole family can enjoy different flavors of Irish cream. This recipe that does not contain eggs is good for the elderly who often experience different conditions that make the cream perfect for everyone. 
The recipe serves between 12 and 14 people but do not worry if you have some leftovers since you can safely store them in a fridge. To make your own homemade Irish cream recipe, you need the right ingredients and you should properly follow instructions. As such, this guide gives you steps that you can follow to make your homemade Baileys Irish Cream.  
How to Make Bailey's Irish Cream?
Making your homemade Irish Cream is very simple and no special skills are required to accomplish this particular task in the comfort of your home. All you need to do is to gather the necessary ingredients in the right quantities then follow the step by step instructions properly in preparing your cream.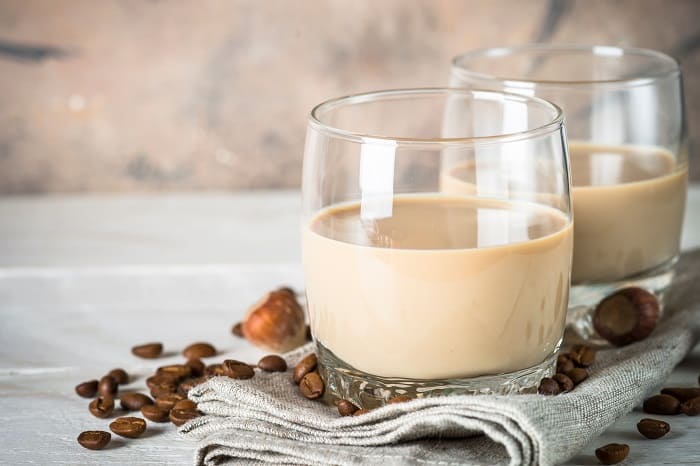 Ingredients for Homemade Irish Cream Recipe
The ingredients of the homemade Baileys Irish cream recipe include the following: 
1 14oz can of sweetened condensed milk
1 cup Irish whiskey
1 1/2-2 tablespoons chocolate-flavored syrup or coffee
1/16-1/8 tsp coconut extract
1 1/2 tsp Vanilla extract, pure
1 tsp Almond extract
1 cup whipping cream
1 teaspoon instant coffee granules
Instructions and Supplies Needed
The preparation time of the recipe takes 20 minutes and the cooking time also takes 20 minutes which effectively means that your homemade Irish cream will be ready in a total of 40 minutes. You should carefully follow the instructions below to make your cream   
1. Using a saucepan with a wide bottom, you should mix the cream with vanilla, coffee grounds, as well as cocoa powder. A wide pan is ideal since it gives you sufficient area to mix the ingredients. You must ensure that all the ingredients are thoroughly mixed. After mixing the ingredients, you then heat the cream using low to medium heat until a stage it begins to steam. 
However, you must be careful to avoid a scenario where the cream reaches the simmering stage.  You then reduce the heat to maintain the cream at this particular temperature for about 20 minutes. You should stir the cream often while holding the temperature at the same level and you will begin to see it darkening as it infuses with chocolate and coffee.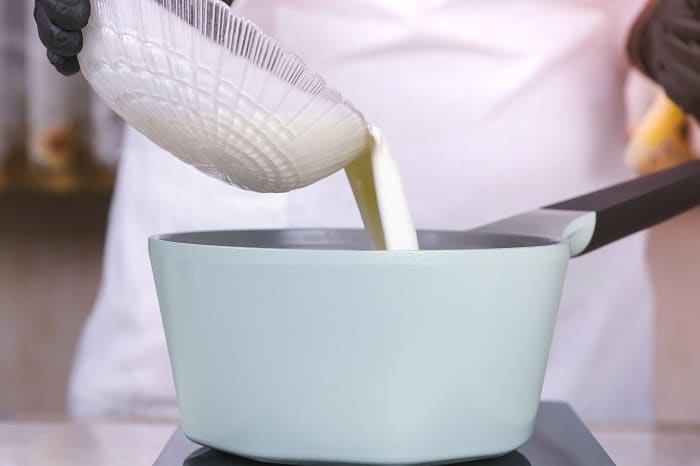 2. Leave the cream to steep for about 20 minutes then remove it from the heat. Using a fine-mesh strainer that consists of a few layers of cheesecloth, strain the cream so as to separate it from the coffee grounds. The cream should be clear of any residue since you can mix it with different types of drinks and desserts. 
3. The next stage is to stir both the Irish whiskey and honey into your strained cream. You should carefully mix the contents to ensure that they are thoroughly mixed. You should also occasionally stir the Irish cream as it cools. 
Uncover the container with the cream and place it on the counter where there is free circulation of air. The idea is to let your cream cool gradually without fast-tracking the process. When the cream has cooled, you can then transfer it to a tightly sealed container. Store in the fridge until it is ready for use. 
4. When your Homemade Irish Cream Liqueur is ready, you should know that it can be used within 2 months. Always make sure that the lid of the storage container is tightly sealed to keep it in a good state. Freezing cream is recommended if you feel that you cannot use it within two months after preparing it. This will also help the cream to last longer and it can also retain its taste over a longer period. 
The homemade Irish Cream recipe can yield up to 2½ – 3 cups of liqueur. This, however, depends on the amount of cream reduced during the steeping stage. 
Tips and Tricks
Avoid high temperatures when preparing your homemade Baileys Irish Cream since this can lead to simmering which is not recommended. Make sure that you use low heat so that it is uniformly distributed throughout the whole mixture. There is also a danger of the creaming sticking to the bottom of the saucepan if you use high temperature.  
You can store the remaining Irish cream in a tightly sealed container in a fridge. For instance, a glass mason jar with a tight lid if fit for this purpose of safely storing leftovers for future use. Before using the cream stored in your fridge, you should always shake well to ensure that the contents are thoroughly mixed. Other ingredients tend to settle at the bottom of the container. 
How to Use your Homemade Irish Cream?
Traditionally, you can drink your Irish cream by simply serving it over ice. However, there are also different ways that you can use to enjoy your Irish cream liqueur. You can try to mix it with any of the following to enjoy the richness of its flavor. 
Coffee

Fudge

Milkshake 

Ice cream 

Whipped cream

cheesecake

Chocolate mousse

Cheesecake
Conclusion
I hope you have enjoyed this step by step tutorial about how you can make your homemade Baileys Irish Cream recipe. The recipe is simple to make and no special skills are required to make it. You only need to gather the required ingredients and follow the instructions about how you can prepare the cream.   
The good thing about the homemade Irish Cream is that it can be enjoyed by all members of the family regardless of age. The other plus is that you can safely store any leftover cream in the fridge for future. What's your take on this type of wonderful homemade Irish cream? You can leave your comments below or share the article if you liked it.