There is nothing more annoying than being congested. Coming into the Winter months, this is one of the most annoying things that happen to me and my family almost monthly. Either my husband or one of my kids is always going through a cold. I used to spend lots of money on different medications, but in the past few years, I have been trying to cut back and use natural products that are not only a healthier option for us and the environment but also can save us some money. Today we have a list of different natural chest rubs for congestion for you to try at home.
How Does Chest Rub Work?
A chest rub is a gel or a balm that is used to treat cold symptoms like congestion and cough. It is usually mentholated and the cold sensation is thought to make it easier to breathe because of menthol's decongestant properties.
It is applied topically, which makes it very safe because you are not ingesting anything. There are even milder options for babies and young kids. The only risk is having a skin reaction to the product, which is very rare. At most, you could have some irritation after removing the product.
If you believe there is any risk or have any doubts, consult your doctor before making these recipes and/or using any rub type product on you or your children. For children, you can make a milder version as well (we will get into it below), but make sure to consult your pediatrician, especially if it is for babies or children under 6.
You can also find a kid-safe line of essential oils. This is great, as you will not have to guess if the oils you are using are ok.
What about Vapor Rub?
Vapor Rub is the OG chest rub that started it all. It is very effective, but its ingredients are not all from natural origins. Some brands, however, have come out with all-natural chest rubs.
If you find any of these readily available, we do recommend you give them a try! They may be convenient if you do not have these ingredients on hand or they are hard to come by. I find it is easier to just mix my own.
All Natural Vapor Rub Recipe
We have taken this recipe from Wellness Mama, shout out to them!
Ingredients
½ cup of olive oil (can be replaced by coconut oil or almond oil if you prefer)

2 Tbps of beeswax pastilles

20 drops of eucalyptus oil

20 drops of peppermint oil

10 drops of rosemary oil

10 drops of cinnamon or clove oil
If you are making this for children, use only 4 drops of eucalyptus and 4 drops of peppermint. Omit the rosemary and the cinnamon or clove. If you already have some made, you could always dilute it into more beeswax and oil to make it milder.
You will also need two pans to heat up the mix and also small containers or jars to store it.
How to Make It
Step 1
Set up a double boiler. You will need a deep pan and a shallow pan that can sit on top of it without hitting the bottom. Fill the lower pan with just enough water to reach the bottom part of the upper pan and bring it to a boil.
In the other pan, place the beeswax and the oil. Put the pan over the water and stir constantly until everything is melted and combined. The double boiler serves to heat up ingredients without adding any moisture to them.
Step 2
Add the essential oils in and mix until everything is thoroughly combined.
Step 3
Pour into the small containers and let cool. Using empty chapstick containers works well for me.
All-Natural Chest Rub Bars
This recipe is from Happiness Is Homemade, go check them out too!
This presentation is a little bit different but may work better for people who live in all-round colder climates or need some rub that is easier to transport and take with you. Maybe for a camping trip, for instance.
Ingredients
4 ounces of coconut oil

4 ounces of raw shea butter

4 ounces of beeswax pellets

Essential oils (You can use the indicated amount for the other recipe)
You will also need a silicone ice mold and a double boiler.
How to Make It
Step 1
Over a double boiler (see Step 1 of the previous recipe for extra instructions on how to set it up) melt together all the butter and oil. stirring frequently.
Step 2
Add in the essential oils you have chosen.
Step 3
Pour the liquid mix into the silicone mold and let it sit overnight at room temperature. If the weather is cold, this may take much less. Check them every hour to see if they are ready. When they are firm to the touch, you are good to go to the next step.
Step 4
Take them out carefully. They should be a breeze to de-mold because of the silicone.
Step 5
Once you have them out, you can store them however you want. They could even be put in little baggies to put into Christmas socks or give out as souvenirs in a winter wonderland themed party.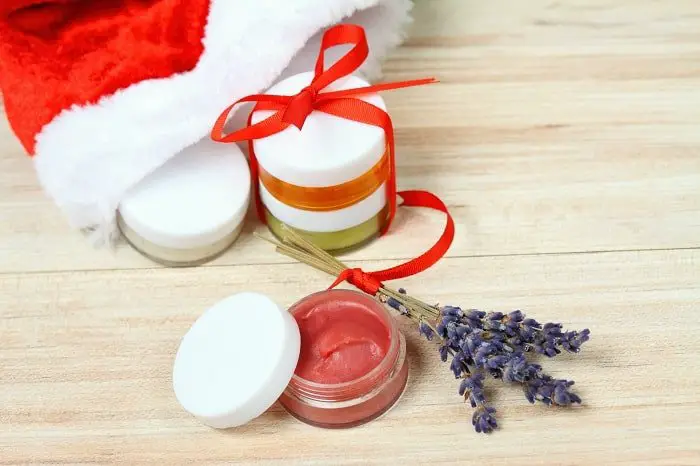 Other Tips
You could also use herbs instead of essential oils. For this, procure a tablespoon of dried herbs or two of fresh herbs and infuse the oil you are going to use first. on a double boiler for 2 hours over medium heat.
You can also make up your own recipe or choose a ready-made blend of essential oils especially made to fight congestion. Many brands offer these and they may be more convenient.
What do you think? Do you prefer these natural ways of preparing your own rubs or are you going to stick with Vapor Rub? Tell us in the comments below! Do not forget to send us a picture of the finished product as well, we would love to see it!